Serving Disabled Customers
This code is designed for use within National Express Transport Solutions and sets out our commitment to disabled customers and the roles and responsibilities of the company, its employees, customers and partners in meeting those needs.
Our commitment to you – What we can do
When hiring a vehicle and you know you have a passenger who may need assistance, we require you to tell us at least 48 hours before you intend to travel of your requirements. We will advise you on what assistance we are able to provide at each stage of your journey. The more information we have about your requirements, the better prepared we will be to meet your needs when you travel with us.
Whilst we are not able to reserve specific seats, on our coaches, the front seats in the coach could be reserved with a request from the customer. Seats are subject to availability.
Our drivers will assist with the loading and unloading of customers' luggage in the coach but may need assistance with items over 20kgs.
Please advise us at the time you make your booking if you consider that you will require assistance getting on or off our coach. We will then make every effort to provide this assistance to you.
We will accept lightweight manual wheelchairs, subject to them being capable of being stowed in the luggage hold of the coach. We regret that we are unable to accept manual wheelchairs that exceed 20kgs in weight unless you or an individual with you at the time of boarding or alighting the vehicle can support the driver in storing or removing the wheelchair from the hold.
We do have vehicles specifically designed to carry one passenger travelling in their wheelchair in the main coach cabin, however, the vehicle is specifically designed to carry a reference wheelchair. You will need to ensure that your wheelchair complies with the dimensions set out in the diagram below, to ensure correct and safe carriage. It is also essential that it is a model which can be securely restrained within the coach.
The wheelchair lift has a safe working load of 300 kg. This is to include the wheelchair and occupant.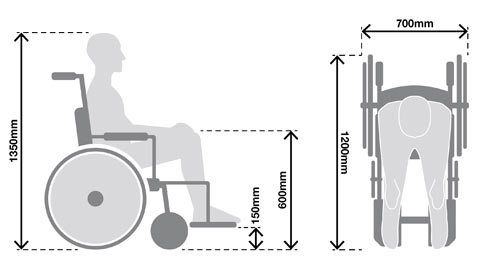 We will accept small mobility scooters and powered wheelchairs for travel subject to the following:-
The scooter or powered wheelchair will break down into separate parts each weighing no more than 20kgs.
It is the customer's responsibility to dismantle and reassemble the powered wheelchair scooter or have someone present who is able to do so to enable stowage in the coach.
The powered wheelchair/scooter is operated by a dry fuel cell or gel fuel cell or lithium battery;
There is no requirement for customers to remove or do anything relating to the battery or power of the wheelchair when stored in the hold of the coach or when used to travel in the cabin of the coach for the journey duration.
We welcome highly trained assistance dogs and assistance animals on our coaches.
We will allow customers who require them to carry personal oxygen supplies in handheld bottles (2kg)
Having liaised with you to determine your specific needs and having conducted a full assessment of your requirements we will advise you if you make a request that we cannot fulfil.
If your pre-booked arrangements have not met your expectations and you notify us, we will fully investigate and do our utmost to resolve the situation with you.
We welcome feedback and comments from all our customers about how we can improve our service to you.
Our commitment to you – What we cannot do
Our staff and drivers are not permitted to assist customers with their eating or personal hygiene. Health and safety considerations mean we cannot lift or carry you, and cannot provide medical services such as giving injections. If a medical condition requires others to provide this type of care, we would advise travelling with a companion who can assist you during your journey
Our drivers and staff are unable to provide personal care services at coach stations or during the journey.
Our drivers and staff are unable to dismantle or reassemble mobility scooters or powered wheelchairs that have been approved for travel.
Digital Accessibility
Every effort has been made to make sure that the pages on this site comply with all W3C WCAG Priority Guidelines. The accessibility and usability features that have been implemented on this site are listed below.